DA VINCI DECODED
Discovering the Spiritual Secrets of Leonardo's Seven Principles

by Michael J. Gelb

Delacorte Press, October 2004
Author Michael Gelb ignited the current fascination with all things Da Vinci with his runaway bestseller, How to Think like Leonardo Da Vinci: Seven Steps to Genius Every Day. Just as that book showed readers how to use the seven Da Vincian principles to develop their creative potential, his new book, Da Vinci Decoded, will help you use the same principles to cultivate your spiritual potential
Wonder. Appreciation. Awareness. Wholeness... In the Western world of the fifteenth century, these personal qualities were all boldly embodied in one extraordinary man. From art to botany, anatomy to mechanics, Da Vinci was a profoundly original thinker fully in tune with the world of man and nature, and with the divine spirit that bridges the two. In this bold new guide to awakening the soul, Michael Gelb draws on Leonardo's writings, inventions, and works of art to show how you, too, can practice the seven essential principles by which Leonardo lived and worked:
Curiosita: Seek the truth
Dimostrazione: Take responsibility
Sensazione: Cultivate awareness
Sfumato: Engage the shadow
Arte/Scienza: Balance the masculine and feminine principles
Corporalita: Integrate body and spirit
Connessione: Practice love
Filled with practical exercises that will help you put each of the seven principles into use, a series of reflective questions designed for self-assessment, and inspirational sayings drawn from the world's great wisdom traditions, DaVinci Decoded offers a wide range of tools to use in your spiritual quest. Now you can let Leonardo and this book be your guides to creating your own personal spiritual renaissance today.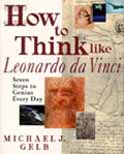 HOW TO THINK LIKE LEONARDO da VINCI:
Seven Steps to Genius Every Day
by Michael J. Gelb
Available in Hardcover, Softcover, and Audio Tape
(Delacorte Books, 1998)
"Drawing on Leonardo's notebooks, inventions, and legendary works of art, Gelb introduces the Seven Da Vincian Principles--seven essential elements of genius, named in Da Vinci's native Italian, that any of us can develop on our own. From the notebooks' celebration of an insatiably curious approach to life (curiosita) to the willingness to embrace uncertainty and paradox (sfumato) embodied in Mona Lisa's smile, these principles will seem at once intuitively familiar and surprisingly powerful."
THE HOW TO THINK LIKE LEONARDO da VINCI NOTEBOOK/WORKBOOK
Your Personal Companion to HOW TO THINK LIKE LEONARDO da VINCI
by Michael J. Gelb
(Delacorte Books, 1999)
"Think of this as two books in one. The Workbook guides you step-by-step, through many of the exercises in HOW TO THINK LIKE LEONARDO da VINCI and introduces some new Da Vincian explorations as well. It also includes a mini-cookbook with sensational recipes for further enriching your experience of the third Da Vincian principle:
Sensazione.
"

"Like Leonardo, use your Notebook to record your questions, obsevations, insights, jokes, dreams, and musings (mirror writing is optional). This book will become a nurturing companion, a mirror for your soul, a conduit for the whispers of your intuitive voice, and a daily celebration of your self. The Notebook has a simple structure designed to encourage you to apply the fifth Da Vincian principle: Arte/Scienza. The right-hand page is blank for your sketches, doodles, and mindmaps; the left-hand page is lined for your linear notes, stream-of-conciousness writings and lists."
DISCOVER YOUR GENIUS:
How to Think Like History's Ten Most Revolutionary Minds

by Michael J. Gelb

(HarperCollins, March 2002)
" Imagine unleashing your creativity by letting your imagination enjoy the benefits of the type of mental play that helped inspire the theory of relativity. Or evaluating your business climate with the combination of keen observation and an open mind that yielded the theory of evolution. Or navigating your life path with the same love of knowledge and truth that spawned all of Western philosophy. The individuals behind these revolutions of thought live on in our collective memory as models for tackling the challenges that lie ahead. The difference between your mind and theirs is smaller than you think, and is determined less by inborn capacity than by passion, focus, and strategy - all of which are yours to develop. Everyone has the potential for genius. The full expression of your unique genius awaits you in these pages! In Discover Your Genius, Michael J. Gelb draws upon the wellspring of history's most revolutionary minds to guide you to unleash your own creativity through mental play. Searching for the most world- shaking ideas, discoveries, and innovations, Gelb assembled a "genius dream team" comprising ten individuals, each of whom embodies a special "genius" characteristic that you are invited to integrate into daily life.
They are:
Plato
-Deepening your love of wisdom;
Filippo Brunelleschi
-Expanding your perspective;
Christopher Columbus
-Going perpendicular: strengthening your vision, optimism, and courage;
Nicholas Copernicus
-Reorganizing your vision of the world;
Queen Elizabeth I
-Wielding your power with balance and effectiveness;
William Shakespeare
-Cultivating your emotional intelligence;
Thomas Jefferson
-Celebrating yourfreedom in the pursuit of happiness;
Charles Darwin
-Developing your power of observation and cultivating an open mind;
Mahatma Gandhi
-Applying the principles of spiritual genius to harmonize spirit, mind, and body; and
Albert Einstein
-Unleashing your imagination and "combinatory play."
Through fascinating, accessible biographies, you'll develop a personal relationship with each genius and learn how to use his or her guiding principle to enrich the quality of your life. Personal self-assessments will help you gauge how each principle is working in your own life, followed by a series of practical and vibrant exercises to help you develop each principle fully.In How to Think Like Leonardo da Vinci, Gelb taught us how to unlock the "da Vincian" genius inside us. Now he provides an enlightening plan for personal and professional development by encouraging us to apply the wisdom of ten of history's greatest minds. Engaging and practical, Discover Your Genius gives us the tools to improve our own mental abilities by making "genius thinking" accessible and fun!"
| | |
| --- | --- |
| | |
| ABOUT THE AUTHOR | |
Michael J. Gelb is a world-renowned innovator in the fields of creative thinking, accelerated learning, and leadership development, which he uses to further his vision of bringing greater creativity, consciousness, and compassion into the world. His clients include DuPont, Merck, Microsoft, and Nike. He lives in Edgewater, New Jersey.
Visit the author's website at www.michaelgelb.com.