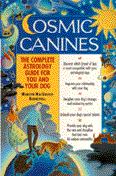 COSMIC CANINES:
The Complete Astrology Guide for You and Your Dog
by Marilyn MacGruder Barnewall
(Ballantine, 1998)
"Cosmic Canines is a book to help animal lovers better understand their dogs by utilizing the science and the wisdom of astrology to explain why dogs behave the way they do. It is a fun book that translates canine behavior into sun sign logic. What the dogs cannot tell us, the stars and Cosmic Canines can."
| | |
| --- | --- |
| ABOUT THE AUTHOR | |
| | |
Marilyn MacGruder Barnewall has been President of The MacGruder Agency, Inc., a bank financial consulting and profit analysis company since 1979. She received a degree in Banking from the University of Colorado Graduate School of Business in 1978, and has written five books on the subject. Prior to embarking on her career in banking, Marilyn helped establish the Denver police department's K9 Corps and trained dogs for a living for several years. It was during this time that she first began applying the science of astrology to solving canine obedience problems.